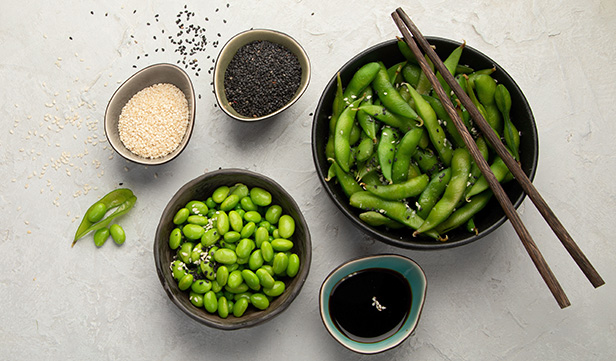 Choosing healthy, protein-rich snacks can keep you feeling full for longer and prevent you from overeating between meals. When your stomach starts to complain, it's easy to reach for a granola bar or a bag of corn chips, but processed, low-nutrient snacks can cause your insulin and blood sugar levels to fluctuate, which makes you hungrier. Choosing nutrient-rich, high-protein foods is the smarter way to snack.
The health benefits of protein
Protein is an important part of a healthy diet. This essential macronutrient helps build bones, muscles, cartilage, and skin and plays a role in carrying oxygen throughout the body. In addition to helping you stay focused, protein:
Provides a quick boost of energy
Helps control hunger
Keeps you feeling full for a longer time
Builds lean muscle mass
The best snack options include protein and fiber
While most Americans already get more than the recommended daily intake of protein, dinner tends to be the most protein-dense meal of the day. Incorporating protein into other meals and snacks can help you feel fuller throughout your day and less likely to reach for unhealthy snacks. Plus, your body will be able to use the protein you consume more efficiently.
Dietary fiber, on the other hand, is a nutrient of concern because most Americans don't get enough of it. Eating foods high in fiber can lower your risk for heart disease, diabetes, and stroke. And, by regulating blood sugar levels and keeping you feeling full, it's easier to lose weight with a high-fiber diet.
When it comes to snacks, combining protein and fiber, with little to no added sugar, can help keep you feeling full until your next meal while also minimizing blood sugar fluctuations. While meat, fish, and dairy are good sources of protein, plant-based proteins—including nuts, legumes, and whole grains—offer added nutritional benefits.
High-protein snacks can help you lose weight
If you want to lose weight and keep it off, choose healthy foods that not only provide the nutrients you need but that you actually enjoy eating. When you satisfy your hunger with healthy, high-protein snacks, you'll be less tempted to eat junk food or empty-calorie snacks that will leave you feeling hungry and unsatisfied.
Here are 10 high-protein, low-calorie, fiber-rich snack ideas to get you started:
1. Whole-grain waffle with blueberries
Top a whole-grain whey protein waffle with 1/4 cup of fresh blueberries. In addition to being a good source of fiber, blueberries contain vitamin C and healthy minerals, all at just 80 calories per cup.
2. Apple slices with almond butter
To satisfy your sweet tooth, spread two tablespoons of almond butter over apple slices. Almond butter is a great source of monounsaturated fat, vitamin E, manganese, magnesium, fiber, and protein. Other types of nut or seed butter will work too.
3. Greek yogurt with nuts and berries
Add a tablespoon of chopped walnuts and fresh or frozen berries to a small container of creamy fat-free Greek-style yogurt. Greek yogurt is packed with protein, but flavored varieties can contain a lot of added sugar, so be sure to read the nutrition facts label.
4. Hard-boiled eggs on toast
Eggs are a great source of vitamins, minerals, and high-quality protein. Top whole-grain toast with a sliced hard-boiled egg and a dash of salt. Add fresh baby spinach and a slice of tomato for extra nutrition.
If you prefer, substitute egg whites and half of a whole-wheat toasted English muffin.
5. Veggies and hummus
It's important to get your recommended servings of veggies throughout the day. For a spicy twist, dip raw vegetables in hummus. Veggies are rich in fiber, while hummus—which is made from mashed chickpeas—provides protein and healthy fat.
One-quarter cup of hummus provides five grams of protein and four grams of dietary fiber.
6. String cheese with whole-wheat crackers
For a quick snack you can take on the go, pair low-sodium, whole-wheat crackers with string cheese. Each one-ounce piece of string cheese contains about seven grams of protein. Mozzarella cheese is also a good source of calcium, a mineral required for healthy bones.
7. Tuna salad on celery sticks
Fill three celery stalks with 1/3 cup of creamy tuna salad for a low-carb, high-protein snack that offers a satisfying crunch. At just 10 calories per stalk, raw celery is rich in antioxidants, including vitamin C, beta carotene, and flavonoids.
8. Black bean and Cotija cheese tortilla
Beans are ultra nutritious and rich in compounds that can improve heart health, keep your cholesterol in check, manage blood sugar levels, and reduce inflammation. Heat up a corn tortilla in the microwave or on the stove before topping it with beans and Cotija cheese.
If you don't have Cotija cheese, feta cheese has a similar crumbly texture and mild flavor.
9. Turkey and lettuce wrap
Wrap savory turkey in crisp lettuce and add a teaspoon of hummus or spicy brown mustard for a low-carb snack with an extra kick. Turkey is a good source of protein and very filling.
10. Oven-roasted spicy edamame
Edamame is a type of soybean that you can pop out of the shell and eat. Simply boil edamame in the shell on the stovetop or cook it in the microwave. For a spicy twist, roast edamame in the oven with garlic, olive oil, sea salt, and ground black pepper—and serve it with soy sauce.
A one-cup serving of edamame offers 18 grams of plant protein and provides eight grams of fiber. It's also a good source of iron, which helps you stay energized.