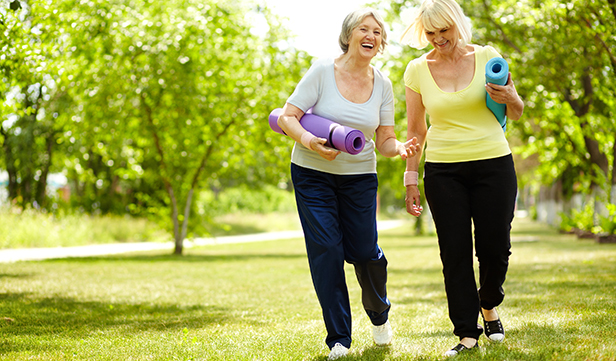 Regular physical activity is part of a healthy lifestyle. However, only about one in five adults in the U.S. gets enough exercise to be healthy. Being inactive and sitting too much raises your risk of developing heart disease, type 2 diabetes, and cancer. The good news is that even small amounts of physical activity can help improve your health. Whether you're looking to reduce your risks of chronic medical conditions or improve your quality of life, making regular physical activity part of your lifestyle can help you achieve your health goals.
Guidelines for physical activity and exercise
The Office of Disease Prevention and Health Promotion (ODPHP) encourages all Americans to lead healthy and active lives. As part of the U.S. Department of Health and Human Services, ODPHP recommends how much physical activity we need to be healthy. The guidelines are based on scientific evidence that supports the connections between physical activity, overall health, and disease prevention.
According to the Physical Activity Guidelines for Americans, 2nd edition, adults should:
Get at least 150 minutes per week of moderate aerobic activity or 75 minutes per week of vigorous aerobic activity—or a combination of moderate and vigorous activity
Include muscle-strengthening activity at least two days per week
Be active most days of the week
Spend less time sitting
Increase the amount and intensity of physical activity gradually over time
Any physical activity that moves your body and burns calories is good for you, particularly aerobic exercise that raises your heart rate and causes you to breathe harder than normal. For maximum benefits, combine moderate and vigorous aerobic activity, along with strengthening and stretching exercises.
Combine aerobic activity with strength training
The ideal workout balances aerobic activity—also known as cardiovascular exercise, or cardio—and strength training. Examples of moderate aerobic activity include brisk walking, water aerobics, dancing, and gardening. Vigorous aerobic activities include swimming laps, running, cycling, and jumping rope.
In addition to helping you build muscle and reduce body fat, strength training offers a number of health benefits. The physical activity guidelines recommend two sessions of strength training each week. If you don't have weights or equipment, use cans of soup or other heavy objects. Focus on one major muscle group at a time, and perform 12 to 15 repetitions of each exercise.
Tips to help you start exercising
If you haven't exercised for a while or have a chronic condition, check with your doctor to find out what types and amounts of activities are right for you.
Set realistic goals. Keep in mind that you don't have to get 150 minutes of aerobic activity each week when you first start exercising. Set a realistic goal you can achieve, and gradually increase the amount of time you're active. If you need to skip a day, that's fine.
Be active for short periods of time. Walking is an easy way to get moving and improve your health. If you don't have time for a 30-minute workout, take three 10-minute walks over the course of a day. Any activity is better than none at all.
Redefine what counts as exercise. Getting the recommended amount of exercise each week doesn't mean you need to go to the gym. There are plenty of ways to sneak physical activity into your everyday life. Any activity that raises your heart rate and helps you build strength counts as exercise. You're exercising when you clean the house, do laundry, work in the garden, mow the lawn, rake leaves, or shovel snow.
Incorporate healthy activities into your daily life. Park farther away from the entrance to the grocery store. Take the stairs instead of the elevator. Schedule a standing meeting. The key is to make regular physical activity part of your lifestyle.
The health benefits of physical activity
In addition to improving your quality of life and promoting your overall well-being, getting the recommended amount of physical activity can help you:
Lower your risk of high blood pressure, type 2 diabetes, heart disease, stroke, and cancer
Strengthen your heart, lower your blood pressure, and decrease inflammation
Lose weight and keep it off
Maintain the health of your bones and reduce your risk of osteoporosis
Promote better sleep and reduce your risk of insomnia
Improve your cognition, memory, and attention
Relieve symptoms of depression and anxiety
How to exercise if you have a disability
While physical activity plays an important role in promoting good health and quality of life, less than half of U.S adults with a serious mobility disability engage in aerobic exercise. For people with disabilities, physical activity can help support independence and the activities of daily living. It also reduces the risk of developing obesity, diabetes, heart disease, stroke, and cancer.
Work with your doctor, physical therapist, or personal trainer to determine how your disability affects your capacity to safely engage in physical activity. If you're confined to a chair, sitting exercises can help enhance your mobility, improve your posture, and prevent falls.
Walking in your neighborhood may be another option, and many people with disabilities can walk with the use of assistive devices, such as a wheelchair or walker. However, living in a area with environmental barriers—for example, lack of sidewalks or high amounts of traffic—can make walking difficult.
Fortunately, efforts are underway to make healthy living easier for all people with disabilities through Reaching People with Disabilities through Healthy Communities, a project funded by the Centers for Disease Control and Prevention (CDC) and the National Association of Chronic Disease Directors (NACDD). The CDC also supports and funds programs to help people living with disabilities stay active.
Resources to help you stay active
Many organizations have created programs that can help you stay physically active at home and improve your quality of life:
The National Center on Health, Physical Activity and Disability (NCHPAD) created a playlist of exercise-from-home videos on its YouTube channel. The list includes options for all abilities so you can choose exercises that work for you.
The NCHPAD's 14 Weeks to a Healthier You is a free, personalized, web-based physical activity and nutrition program for people with mobility limitations and physical disabilities.
The Special Olympics developed Fit 5 based on the three simple goals of exercising 5 days per week, eating 5 fruits and vegetables per day, and drinking 5 bottles of water per day.
Whether you're living with a disability or simply looking for ways to improve your quality of life, getting the physical activity you need can help reduce your risks of chronic medical conditions, strengthen your heart and bones, and improve your overall health.
Additional source
Mayo Clinic, How much should the average adult exercise every day?