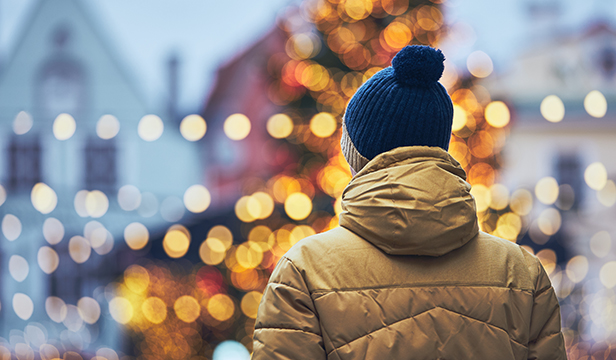 Many people consider the holidays to be the most wonderful time of the year, but for some the added stress of the season may cause feelings of anxiety and depression. Different things can trigger the holiday blues—unrealistic expectations, sentimental memories, the inability to be with friends or family. Planning ahead and taking care of yourself can help you minimize stress and find peace and joy during the holiday season.
Take positive steps to beat the holiday blues
The holiday season can be stressful, but the holiday blues are short-term, so be patient and take things day by day.
Stick to normal routines. Maintaining your usual routine during times of high stress can help you feel healthy, grounded, and secure.
Be realistic. There is no such thing as the perfect holiday. Forget about what the holidays should be like. Set reasonable expectations and goals for holiday activities such as shopping, cooking, entertaining, and sending cards. Make a to-do list, and keep things simple.
Set a budget. It can be difficult to find a balance between making loved ones happy and sticking to a budget. Figure out how much you can afford to spend before you start shopping for gifts and food. If money is tight, get creative with homemade gifts. Remember, you can't buy happiness.
Maintain healthy habits. Eat healthy meals, stay active, and get plenty of sleep. Even small amounts of exercise can reduce stress, so consider starting your day with a brisk morning walk. Avoid excessive sweets, and eat and drink in moderation. Don't drink alcohol if you're feeling down.
Let go of the past. Memories of past holidays can create a sense of loss. We miss people who are no longer with us. It's okay to feel sad if you can't be with loved ones, or if someone close to you has died. Grief is a natural response to loss.
Start a new tradition. As families change and grow, traditions may change. If you can't be with your adult children or other relatives, meet on a video call and find new ways to celebrate together.
Seek out community. Social isolation can affect your mental health. Feeling lonely can cause anxiety and stress. If you feel isolated, reach out to a friend, family member, or neighbor with a text, call, or a video chat. Talking about your feelings can help you understand why you feel the way you do.
Learn to say no. Taking on too many responsibilities can leave you feeling overwhelmed. It's okay to decline an invitation or take a rain check. Set clear limits about what you can and cannot do. Focus on meaningful experiences. Spending time with loved ones is what the holidays are all about.
Volunteer your time. Helping others by performing acts of kindness can reduce the effects of stress and promote your overall psychological well-being. If you're staying home, donate to a charity in a loved one's name.
Take a break from TV and social media. Holiday movies and social media can set unrealistic expectations for how this time of year should feel. We end up being disappointed when reality doesn't meet our expectations. Put down your phone, turn off the TV, and take a break.
Set aside time to relax. Make time for yourself. Spend a few minutes alone, going for a walk, reading, or listening to music. Try deep-breathing exercises, meditation, or yoga. Listen to music or find other ways to relax.
What to do if the holiday blues don't go away
While many of us experience the holiday blues, it passes. However, reduced sunlight in the winter can interfere with our biological clocks and diminish brain chemicals that regulate our mood and sleep, putting us at risk for seasonal affective disorder (SAD).
Those who suffer from SAD may experience prolonged episodes of depression during the late fall and winter. Symptoms include:
Unhappiness
Lack of energy
Difficulty concentrating
Changes in sleep
Loss of appetite
Inability to enjoy activities you love
Feelings of hopelessness
Depression
Reduced interest in sex
Thoughts of suicide
If you suffer from SAD, consider seeking professional help. Effective treatments, such as light therapy, are also available.
Asking for help is a sign of strength
It's normal to experience stress and anxiety, especially during the holidays, but if your symptoms prevent you from taking part in daily activities, it may be time to talk to a behavioral health professional. Depression is treatable and not something to be ashamed of. Talking about your feelings with someone who is trained is an effective way to cope with emotional pain and stress.
Source
Mayo Clinic, Stress, depression and the holidays: Tips for coping