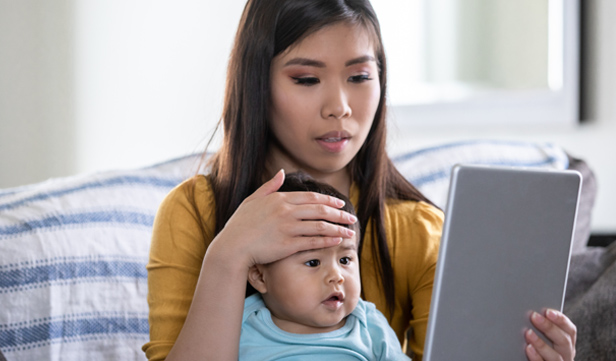 Virtual visits offer convenient access to health care 24 hours a day, seven days a week. Rather than scheduling an in-person appointment at a doctor's office, you can video chat or speak with a provider using a smartphone, computer, or tablet. It's a great way to get the care you need for minor health conditions without leaving home. Following a few tips will help you get the most from your telehealth visits.
What is telehealth?
Telehealth is the use of digital technology, such as a computer or mobile device, to access health care services remotely. Even if you've never scheduled a virtual visit, you may already be using telehealth tools to access health care.
Digital health care technology allows you to:
Watch online videos about health and wellness topics, making healthy lifestyle choices, or managing a medical condition
Learn more about symptoms you're experiencing with an online symptom checker
Count daily steps using a fitness tracker
Track daily calories with a mobile app
Review test results and schedule medical appointments via an online patient portal
Order prescriptions online
Receive email or text reminders that it's time to schedule an appointment or get a flu shot
Telehealth increases access to health care services in rural and underserved areas, makes getting care more convenient, and improves communications between patients and members of their health care team.
See a doctor 24/7 from the comfort of home
During a virtual visit, a doctor provides the same level of health care you would receive in an office visit. The online doctor will evaluate your symptoms, offer a diagnosis, and, if needed, send a prescription to your local pharmacy.
Virtual visits are a great option when an in-person visit isn't required or possible. Doctors can treat minor non-emergency medical conditions like:
Allergies
Bladder/urinary tract infections
Bronchitis
Colds
Coughing
Diarrhea
Fever
Flu
Migraines/headaches
Pink eye
Rashes
Sinus infections
Sore throats
Stomachaches
And more
Virtual visits for behavioral and mental health
Virtual visits are also available for anxiety, stress, depression, and other emotional and behavioral health issues. Therapists offer caring support, and psychiatrists can provide medication management for many conditions.
Telehealth appointment checklist
1. Plan ahead. Decide ahead of time what device you'll use for your virtual visit—a desktop computer, laptop, smartphone, or tablet. Make sure you have a reliable internet connection. Find out if you need to download an app or video chat software before your visit. Your provider may use Apple FaceTime, Facebook Messenger video chat, Google Meet, Zoom, Skype, or another application. Write down a contact phone number for your virtual visit provider in case you encounter any problems during your visit.
2. Practice good security. If you need to create an account for your virtual visit, choose a unique password that can't be easily guessed and is not the same as a password you use for anything else, including your online patient portal. You may also have to digitally sign a HIPAA (Health Insurance Portability and Accountability Act) consent form. Also, be sure to have contact information (name, address, and phone number) for your primary care physician and local pharmacy.
3. Choose a quiet, private place. Privacy is important for a productive visit, especially if you need to share personal details or discuss a sensitive topic. Do what you can to eliminate any distractions or interruptions. A comfortable chair is best because, depending on demand, you may be placed in a digital waiting room before your session begins. (Think of it as a chance to catch up on your reading.)
4. Get your medical history in order. Whether you see a doctor in-person or online, always bring a complete medical history to your appointment, including personal and family medical conditions, details about your diet and lifestyle, and any medications you take—prescriptions, over-the-counter medications, and supplements. Also, write down a list of your current symptoms. This information will allow your doctor to provide the best care possible.
5. Write down questions. It can be hard to remember everything you want to ask during a virtual visit, especially if it's your first time. Write down important questions for the doctor ahead of time.
6. Review your treatment plan. During the visit, keep a detailed record of your treatment plan, including next steps and any follow-up instructions. Ask your doctor to explain anything that is unclear. Ask whom you should contact if you have any questions.
7. Be prepared for a copay. Most insurance companies require a copay for a virtual visit. Check your plan documents for details.
8. You may need to fill a prescription. If needed, your provider can call in a prescription or refill to your local pharmacy.
9. You may need to schedule an in-person visit. If your doctor orders lab work (such as a blood test), a scan (an MRI or X-ray), biopsy, or another test, you'll need to schedule a follow-up appointment at your regular clinic.
Virtual visits for APWU Health Plan members
APWU Health Plan covers telehealth visits for High Option and Consumer Driven Option members. You can video chat or speak to a board-certified doctor 24/7 from your mobile device, tablet, or computer. Doctors can diagnose and treat a wide range of minor medical and mental health concerns, provide a diagnosis, and, if appropriate, send a prescription to your local pharmacy. It's an easy, convenient way to get the care you need—with no appointment and no long wait times.
Call 911 immediately or go to the nearest emergency room if you believe you are experiencing a medical emergency.