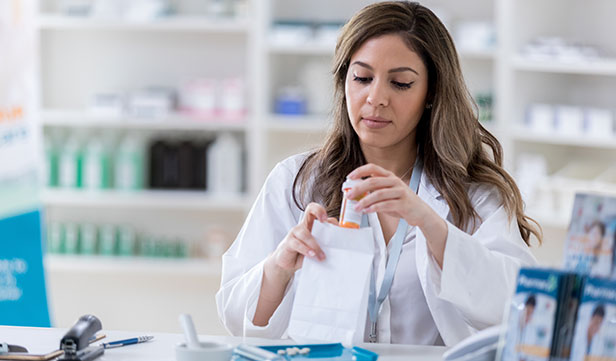 Your pharmacist is an important member of your healthcare team. In addition to teaching you how to use prescription and over-the-counter medicines safely and effectively, your pharmacist can help you avoid harmful interactions with other medications, supplements, food, and beverages. Here are some tips to help you get the most out of your pharmacy benefits.
Use the same pharmacy for all of your prescriptions
Using the same pharmacy for all of your prescriptions helps you develop a strong partnership with your pharmacy team. Keep a record of every medicine you take and give a copy to your pharmacy. List all prescription medicines, over-the-counter medicines, vitamins, and supplements you use. Talk to your pharmacist about any changes to your medicines, including anything you have stopped taking, and be sure to mention allergic reactions you have had to medicines or dietary supplements.
Read the information that comes with your medication
Medication guides and drug information sheets can be overwhelming, so ask your pharmacist to explain anything you don't understand. You should know the name of each medication you take, possible interactions with other medications, and potential side effects.
Questions to ask your pharmacist
If you have any questions about a medication, don't hesitate to ask your pharmacist. Always take medications as prescribed and make sure you follow all of the instructions, including:
When to take the medication
How much to take
How many times a day to take it
Whether or not you should take the medication with food
Other questions for your pharmacist include:
What should I do if I forget to take my medication?
If you forget to take a dose at the scheduled time, talk to your doctor, healthcare provider, or pharmacist. It's important to take medication as prescribed so you get the full benefits.
Could this medication interact with other medicines or supplements?
Vitamins, supplements, and over-the-counter medications can interfere with your prescriptions and cause side effects. Talk to a pharmacist about all of the medications you take, especially if you have a new prescription. If you take multiple prescription medications, ask your pharmacist to check if there are any potential interactions between medications.
Should I avoid any foods or drinks while taking this medicine?
Some medications may interact with different types of food or drinks. Interactions can prevent a medication from working as it should and cause dangerous side effects.
Can I stop taking the medicine if my symptoms go away?
Never stop taking a prescribed medication without talking to your doctor. In some cases, suddenly stopping a medication can cause serious side effects.
Where should I store this medicine?
Some medications need to be refrigerated or kept in a cool, dry place, away from direct sunlight. Keep all medications away from children and pets.
Save money by choosing generic medications whenever possible
Many brand-name medications have a generic equivalent that costs less. Health plans often offer lower copays when you use a generic equivalent of a brand-name drug.
Brand-name medications cost more because of the research and development that went into making the drug. After a drug has been on the market for five or ten years, the Food and Drug Administration (FDA) can approve a generic version of it.
Generic medications contain the same active ingredients as brand-name medications and are just as safe and effective. Always ask your doctor or pharmacist if a generic version of your medication is available.
Use a home delivery pharmacy for medications you take regularly
If you take a medication on a regular basis, you may be able to keep costs down by asking your doctor to prescribe a 90-day supply and using a mail-order pharmacy through your health plan. Using a mail-order pharmacy and having your medication delivered to your home is more convenient than getting your medications from a local pharmacy—and you can often save money. Just make sure the pharmacy is in your health plan's network before you place an order.
Many mail-order pharmacies offer 24/7 service through a website or by phone. This is helpful if you have questions about a medication when your local pharmacy is closed.
Home delivery pharmacy services for APWU Health Plan members
As a member of APWU Health Plan, you can fill and renew prescriptions with home delivery from the pharmacy benefit manager for your plan:
Express Scripts home delivery for High Option members
OptumRx home delivery for Consumer Driven Option members
Dispose of unused medications
Prescriptions are based on your body and personal health history. Never share medications because it can be dangerous and even life-threatening to take a medication that was prescribed for someone else.
Some ingredients in a medication work differently over time or stop working altogether. It's important to safely dispose of expired medications in one of three ways:
Bring unused medications to a drug take-back site. The U.S. Drug Enforcement Administration (DEA) keeps disposal locations open year-round.
Check the FDA Flush list to see if you can flush it down the toilet. If you don't have a drug take-back location near you, you may be able to flush it down the toilet. Make sure it's on the flush list of the FDA.
Dispose of medications at home. If your medication is not on the flush list, mix it with used coffee grounds or cat litter, seal the mixture in a bag, and throw it into the trash. Be sure to remove any personal information from the container before throwing it away.
If you have any questions about disposing of unused or expired medications, talk to your pharmacist. And remember, your pharmacists can offer tips on taking your medications safely, avoiding complications, and caring for your whole health.