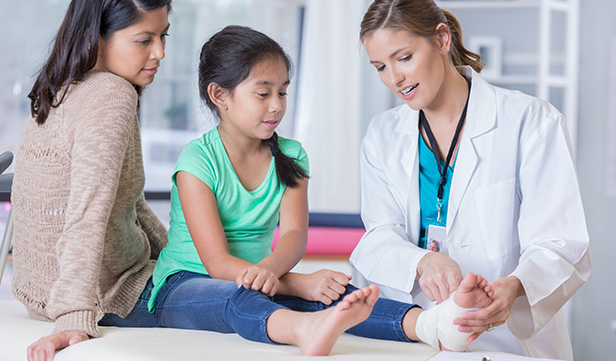 It isn't always easy to know what to do, especially when symptoms come on suddenly, but knowing where to go for medical care is a key part of being an informed health care consumer. Before you wait for hours in the ER and end up with an exorbitant hospital bill, take a few moments to consider your options. It could save you time, money, and a lot of frustration.
Your primary care physician
Your primary care physician—the doctor you see for annual checkups, routine screenings, and immunizations—is your first and best option for medical care. In addition to understanding your overall health and medical history, your doctor has a record of any allergies you may have and medications or supplements you take.
Many clinics offer same-day appointments. If you can't get in to see your doctor when you're sick or need care, there are other options.
Virtual visits
Virtual visits can be a great option when you want to ask a doctor about a minor medical concern from the comfort of home. With a virtual visit, you can see and talk to a doctor from your phone, tablet, or computer. Doctors can often provide a diagnosis and even send a prescription to your local pharmacy.
Nurse advisory line
As an APWU Health Plan member, you also have access to a 24/7 nurse advisory service. Registered nurses are available to answer to your health questions and provide information about when to seek care. Simply call the toll-free number listed in your plan documents.
Convenient care clinics
Convenient care clinics are usually located in a drug store or other establishment and can often save you time and money when you have a non-life-threatening medical condition, like a sinus infection or pinkeye. Most convenient care clinics have a single medical provider, so you may have to wait to be treated.
Urgent care
If you have something more serious and your regular clinic is closed for the day or the weekend, urgent care might be a good option. Urgent care centers can handle a range of medical problems that need to be treated right away but are not true emergencies. Many people who go to the ER for after-hours care would have been better off going to an urgent care clinic. These clinics help fill a gap when you get sick or have a minor injury, but your regular doctor is unavailable and you can't wait for an appointment.
The emergency room
Hospital emergency rooms (ERs) focus on treating medical emergencies. A medical emergency is any life-threatening situation that requires immediate assistance. If you think a situation is serious but aren't sure it's an emergency, call 911. It's better to be safe than sorry.
Many people are surprised by the bill after visiting the emergency room. If you're experiencing life-threatening symptoms, call 911 immediately. But if it's not an emergency, choosing another care option could save you time and money.
Be prepared
An illness or injury can happen when you least expect it. Take a few steps now so you'll understand your options and be prepared to respond.
Add the following contact information (names, phone numbers, and addresses) to your phone:
Your primary care doctor
The nurse advisory line
The closest convenient care clinic
The closest urgent care clinic
The closest emergency room
Whenever you seek medical care—whether you have an appointment with your primary care physician or are heading to the ER—always bring a list of the prescriptions you take, including over-the-counter medicines, vitamins, and supplements. For each medication, write down how much you take and how often you take it.
Also, list any allergies you have, including any known allergies to medications, and any surgeries you've had. Note when they were performed and the names of the surgeons.