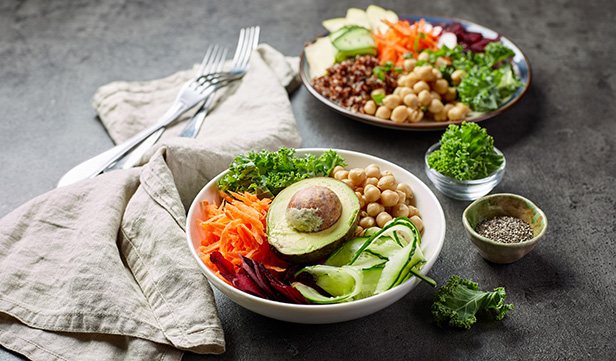 High blood pressure affects millions of Americans, but many of us don't even know we have it. That's because high blood pressure—also known as hypertension—often has no symptoms. The condition makes your heart work harder than it should and can cause serious problems, including heart disease, stroke, and kidney failure.
Making healthy lifestyle choices, such as losing weight if you're overweight, can help keep your blood pressure under control. It's also important to follow a healthy diet that limits the amount of sodium you consume. Don't worry, that doesn't mean you have to restrict yourself to bland meals. In fact, there are all kinds of delicious foods that can help lower your blood pressure.
DASH to lower your blood pressure
Following the DASH eating plan can lower your blood pressure. DASH—short for Dietary Approaches to Stop Hypertension—focuses on adding nutrient-rich foods like fruits and vegetables to your diet.
A National Heart, Lung, and Blood Institute (NHLBI) study found that people who added fruits and vegetables to a typical American diet had lower blood pressure than those who followed a typical American diet alone. Better yet, those on the DASH diet lowered their high blood pressure even more and reduced their LDL (bad) cholesterol levels.
What's the DASH eating plan?
DASH is a wholesome, high-fiber diet that focuses on healthy foods you'll find at the grocery store. The basic idea is to eat more fruits, vegetables, whole grains, low-fat dairy products, and nuts. Say yes to poultry, seafood, and fatty fish like salmon, while cutting back on red meat, processed foods, tropical oils, and sweets.
The DASH eating plan can also help you consume less sodium (or salt), which is known to contribute to high blood pressure. Most of us consume far more sodium than we should. According to the latest dietary guidelines, adults who are trying to lower their blood pressure should consume no more than 2,300 mg of sodium per day.
Be sure to check the sodium content on Nutrition Facts labels, and when you eat out choose foods that are lower in sodium.
Foods that fight high blood pressure
Working more DASH foods into your meals can help lower your blood pressure. Add colorful veggies to soups and salads. Choose whole-grain breads and pastas. Substitute ground turkey for ground beef. And snack on fresh fruits.
Add these 10 power foods to your DASH diet:
Avocados

You can stuff avocados with almost anything (diced chicken breasts, tomatoes, low-fat cheese) and bake them in the oven.

Tilapia

Sauté it on the stove or bake it in the oven. Tilapia taco Tuesdays could become your new dinnertime tradition.

White beans

Choose no-salt-added canned beans and add them to a salad.

Kiwifruit

For an easy, healthy snack, slice a kiwi in half and eat it with a spoon straight from the skin.

Pork tenderloin

Season it with garlic, basil, oregano, thyme, parsley, and sage.

Quinoa

Add quinoa to side dishes, soups, and salads.

Kale

Baby kale is a great base for a garden salad.

Sweet potatoes

For a healthy twist, try adding a baked sweet potato to your smoothie.

Peaches

Homemade peach salsa is sure to be a hit at your next dinner party.

Red bell peppers

The possibilities are endless: fajitas, stir-frys, soups, salads, pastas, curries.
Savor the benefits of healthy eating
The DASH eating plan includes a wide variety of nutritious, delicious foods. Even if you don't have high blood pressure, DASH can help you eat a balanced diet and live a healthier life.